Training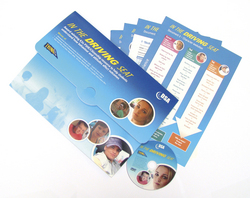 Title: In The Driving Seat
Organisation: The Stationery Office (TSO)
Date uploaded: 31st August 2010
Date published/launched: May 2010
'In The Driving Seat' is an award winning comprehensive Key Stage 4 Personal Social Health & Economic education (PSHE)/Citizenship teaching resource which has been developed by the Driving Standards Agency (DSA).
This resource has been developed to help students of 14 to 18 years of age understand how behaviour and attitudes affect outcomes, through a film about a group of young people who are learning to drive.

The teachers' pack includes a DVD which is divided into four episodes plus extensive resources to help teachers deliver the programme; including a structured lesson plan for each module.

PSHE/Citizenship curriculum aims covered:

• Successful learners who enjoy learning, make progress and achieve

• Confident individuals who are able to live safe, healthy and fulfilling lives

• Responsible citizens who make a positive contribution to society.

Published by TSO (The Stationery Office), DSA's official publishing partner.
For more information contact:
Emma Franklin
T: 01603 694497
External links:
Help Forum posts