Research & reports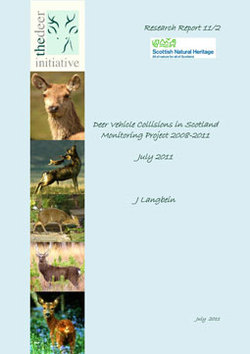 Title: Deer Vehicle Collisions in Scotland - Monitoring Project 2008-2011
Organisation: The Deer Initiative
Date uploaded: 28th November 2011
Date published/launched: July 2011
The primary objective of this project was to re-establish the Deer Vehicle Collision (DVC) database (built up 2003-2005) in order to assess the scale and distribution of DVCs, and investigate contributing factors.

Over the last two or three decades, in Scotland as in the rest of the UK, the number of wild deer and volume of traffic have both increased significantly. Deer-vehicle collisions (DVCs) have also increased, with significant costs in human death and injury, animal welfare and material damage.

Following the recommendations of earlier studies to comprehensively record, analyse and monitor the problem, from 2003 to 2005 the Scottish Executive commissioned the Deer Initiative (DI) to develop a national DVC database (linking up with a parallel project in England), assess the scale and distribution of DVCs, and investigate contributing factors.

The primary objective of the present "DVC Scotland 2008-11 Monitoring Project" has been to re-establish the DVC database built up during 2003 to 2005, and include also as far as possible information for the intervening years when data collection was paused. This will enable monitoring of long-term changes in DVC occurrence countrywide, as well as between and within regions and for specific roads.

Over 6,500 new records (for 2006-2010) have been added to the DVC Scotland database during the present project. This is a larger sample of records than obtained in the previous study, despite new data collection having focussed on a more restricted set of the most consistent source organisations. The DVC Scotland Database now overall includes more than 12,500 DVC records for the 10-year period 2001 to 2010.

The comprehensive database of known DVC incidents in Scotland already accrued consistently from 2007 onwards, as well as in some areas for earlier years, now provides a good level of sampling right across all regional and city council areas of mainland Scotland. Focus of countrywide monitoring primarily on these two main data sets, which are least prone to overemphasis of some areas over others due to recording bias, should also suffice for initial identification of existing and new localised DVC hotspots.
For more information contact:
The Deer Initiative Head Office
External links:
Help Forum posts