Enforcement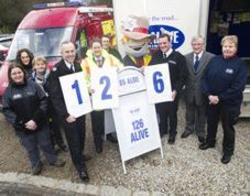 Title: 95 Alive road safety campaign
Organisation: 95 Alive Partnership (York and North Yorkshire Road Safety Partnership)
Date uploaded: 4th April 2011
Date published/launched: February 2011
95 Alive, the York and North Yorkshire Road Safety Partnership, has beaten its target to save 95 lives over five years.
North Yorkshire's 95 Alive road safety campaign has beaten its target to save 95 lives on the county's roads.

Provisional figures take the number of lives saved in the past five years to 126. The figure is based on the projected total which would have been reached if casualties had continued at the same rate as five years ago.

The York and North Yorkshire Road Safety Partnership was established by North Yorkshire County and City of York Councils, North Yorkshire Police and Fire and Rescue and many other agencies, working together to cut casualties on the roads.

While the target has been overtaken, the reality is 50 people died on the roads of York and North Yorkshire in 2010, and there have been more tragic deaths on the roads in January. The reduction in the numbers of casualties demonstrates what can be done. The fact that lives continue to be lost is a reminder of how important the work is.

Over the past five years the challenge has been to change the behaviour of drivers, riders and pedestrians using Education, Enforcement and Engineering. After studying fatal crash reports, campaigns have concentrated on areas of most concern including motorcycles, seat belts, distraction driving, speeding, drink and drug driving, young drivers, driving for work and older drivers.

Campaigns have built on work being done by the road safety teams, coordinating efforts to deliver the crucial road safety messages that can save lives. These have included over 1,700 older drivers attending roadshows to help them to stay safe on the roads for longer. A large amount of work has been done in schools, with over 7,800 children being given pedestrian training. There has also been extensive cycle training, and Junior Road Safety Officers have been recruited to help. The Seatbelt Sheriff has sworn in 5,300 deputies to encourage children and adults to 'Clunk Click Every Trip'. In the past five years 10,000 young people have attended Drive Alive events in schools to learn about the dangers new drivers face.

More than 200 new drivers have gone through the Enhanced Pass Plus Scheme once they've passed their test, giving them the skills and knowledge that could save their own and some one else's life.

Last year alone road safety staff talked to 10,000 motorcyclists at events across the county to encourage them to ride safely. Messages have been taken out into the community through country shows, markets and events.
For more information contact:
Honor Byford
T: honor.byford@northyorks.gov.uk
External links:
Help Forum posts