Education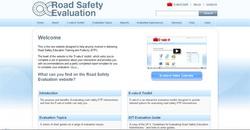 Title: E-valu-it
Organisation: RoSPA & DfT
Date uploaded: 8th December 2010
Date published/launched: December 2010
The main aims of E-valu-it are to increase and improve the measures of effectiveness of road safety education, training and publicity (ETP) and to improve the efficient use of road safety ETP resources.

Users of E-valu-it are asked a series of questions about their intervention, the issue(s) it is meant to address, its aims and objectives and a few other details. E-valu-it then provides recommendations for carrying out an evaluation of the intervention, plus a template for recording the data collected during the evaluation, which then becomes the final evaluation report once it is completed.

Once an evaluation report has been completed, users have the option of publishing it on the Road Safety Evaluation website to share their experiences and findings with colleagues in the UK and around the world.

The main target audience for E-valu-it is road safety professionals, including those from local authorities, emergency services and charities. However, anyone is free to use E-valu-it. For example, employers may find it useful to evaluate their initiatives to improve their company's at-work road safety initiatives.
For more information contact:

External links:
Help Forum posts