Advocacy papers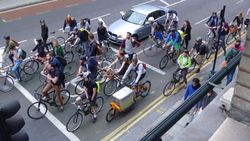 Title: Time to #ChooseCycling (manifesto)
Organisation: British Cycling
Date uploaded: 27th February 2014
Date published/launched: February 2014

British Cycling's 10-point manifesto is designed to transform Britain into a "true cycling nation" and to help the nation gain the equivalent of "almost one million extra healthy years of life over the next decade".

The manifesto details how and why British Cycling believes that national and local government should be prioritising cycling as a form of transport.

It cites new research commissioned by British Cycling from Cambridge University, which suggests that if people replaced just five minutes of the 36 minutes they spend (on average) each day in the car with cycling, there would be an almost 5% annual reduction in the health burden from "inactivity-related illnesses".

The manifesto also says that if 10% of trips in England and Wales were made by bike, the savings to the NHS would be at least £250 million per year.
For more information contact:

External links:
Help Forum posts