Knowsley Metropolitan Borough Council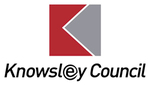 Knowsley Metropolitan Borough Council
Knowsley is one of five metropolitan boroughs of Merseyside.

The 2004 deprivation indices placed Knowsley as the third most deprived borough nationally. Over half (52per cent) of Knowsley's population live in the top 10 per cent most deprived super output areas in the country.

The borough has transformed its casualty profile over recent years from being amongst the worst performers to being amongst the very best. Knowsley's casualty reduction successes have been underpinned by solid data collection and analysis, area-wide traffic management initiatives and a data-led, research driven approach towards all ETP interventions.

A fundamental difference between Knowsley and many other authorities is that as part of this data-led research-driven ethos, Knowsley's does not advocate teaching children to 'find a safe place to cross'.

We believe that:
• no such place exists – child pedestrian casualty reports frequently refer to deaths or injuries occurring on assisted crossing facilities. If these places are not safe, where is a 'safe place'? ;
• It is people, not places that are safe or unsafe. Road safety is often counter-intuitive. Most young children become casualty involved on quiet 'safe' roads. All Knowsley's ETP interventions emphasise that all roads are dangerous and that it is the individual's own responsibility to keep themselves safe at all times;
• The majority of young children are 'goal-orientated'. In the 'real world', they will cross towards their target irrespective of our desire for them to use environmental features designed to protect them. We believe that it is necessary to provide children with the knowledge and skills that they require to deal with their true crossing behaviour, rather than how we would like it to be;
• Children's behaviour is complex. Repeated studies reveal that even if young children could remember the 'rules' of crossing by rote - and their recall of these maxims is patchy at best - their limited cognitive development means that their application of them at the roadside is often chaotic; In response to this date-led, research-driven approach, Knowsley has developed a parental awareness raising campaign which addresses 8 key components of knowledge and behaviour known to contribute towards child casualty involvement and provides parents with a mechanism to improve their child's skills.

For further information contact Andy Wilson, Andrea Bate or Leon Bown on 0151-443-2232.
Knowsley Metropolitan Borough Council Information
*Population size: 100,000-200,000
*Length of road: 500-1,500 km
*Authority type: Metropolitan Borough
*KSI Baseline: 0-99

---
Knowsley Metropolitan Borough Council Contacts
Andy Wilson
Knowsley Metropolitan Borough Council
Yorkon Building, Archway Road
Huyton, Knowsley
Merseyside
L36 9FB

T: 0151 443 2232
E: andy.wilson@knowsley.gov.uk

---
Knowledge submitted
---
External links
Help Forum posts