Institute of Highway Engineers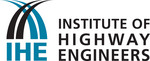 Institute of Highway Engineers
The Institute of Highway Engineers was founded in 1965 and has been registering engineers and technicians with the Engineering Council since 1972, and accrediting academic courses since 1989.

IHE is run by and for practical engineers and allied professionals who have ideas and commitment to sustainability and integrity.

Our staff are happy to advise you on how to progress your career and our activities are geared to supporting your professional development.

You can join today without fuss as an Affiliate Member, and its FREE for six months.

There are progression routes through to Fellow (our top grade) for aspiring Incorporated and Chartered Engineers, registered Engineering Technicians and for those with lots of industry experience but different or no qualifications.

IHE is very active in promoting engineering and in maximising members' policy contributions.

IHE supports continued professional development with topical conferences (for instance on maintenance) and training courses designed by peers. We lead the field on training for traffic signs, development control, highway law and traffic signal implementation.

You can prove your competence by taking an IHE Professional Certificate.

IHE Guidelines draw together good practice guidance from the experts to help you improve your contribution to the community.
---
Institute of Highway Engineers Contacts
INSTITUTE OF HIGHWAY ENGINEERS
De Morgan House
58 Russell Square
LONDON WC1B 4HS

T: 020 7436 7487
F: 020 7436 7488
E: information@theihe.org

---
Knowledge submitted
Motorcyclists
---
External links
Help Forum posts