Publicity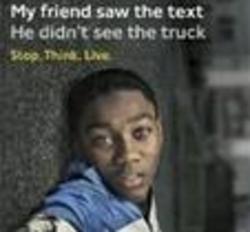 Title: Stop.Think.Live
Organisation: Transport for London
Date uploaded: 10th April 2012
Date published/launched: March 2012
This campaign aims to continue the trend of a steady decline in teen casualties in London.

Transport for London's (TfL's) campaign to reduce the number of teenage road casualties in the Capital went viral as Wretch 32 and London girl band Stooshe took to YouTube with clips reminding their fans to take care when using London's roads.

The stars joined previous road safety ambassadors including Tinie Tempah, Rizzle Kicks, Tinchy Stryder, Mz Bratt and Being Human stars Russell Tovey and Lenora Crichlow and donated their time free of charge to record the clip.

The campaign uses a range of powerful messages to remind young teenagers to take care when using the road.

Alongside these 'shout outs', new campaign posters will be on display across London featuring striking images to show the consequences of being distracted on the road.

A poster of a boy lying motionless on the road and clutching a mobile phone carries the strapline 'My friend saw the text. He didn't see the car.'

The campaign also includes an online game, which can only be played on desktop PCs or laptops. It challenges the player to navigate themselves and their friends safely through London's roads. The game highlights the importance of looking out for more than one person when on the road.

Figures suggest teenagers are heeding safety messages - the 2010 road casualty figures revealed that there had been 14% fewer teenage deaths or serious injuries on the Capital's roads with 258 teenagers (aged 13-19) killed or seriously injured, compared with 301 in 2009.

Overall, the number of teenagers killed or seriously injured has fallen by almost 62% since the campaign started in 2000.

The work is part of TfL's ongoing commitment to reach young people in ways are relevant to them. The ideas behind the campaign are a result of in-depth research into teenage behaviour, which has won an award from the Market Research Society.
For more information contact:
Ben Plowden
External links:
Help Forum posts