Education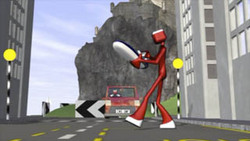 Title: Crash Magnets
Organisation: Road Safety Scotland
Date uploaded: 7th September 2010
Date published/launched: Pre 2009
'Crash Magnets', a road safety tool box for secondary schools, is a classroom resource developed by Road Safety Scotland.
It engages students in their mid-to-late teens and encompasses Health & Well-being, Citizenship, Peer Education, Futures Education and Personal & Social Development.

For many young people aged 15–18, road safety is a subject that they associate with primary school and no longer of relevance to them. They perceive themselves to be more at risk from hazards other than those involving cars. Crash Magnets seeks to engage young people by making this subject relevant to their lives and experiences; multimedia in style, image-conscious, diverse and most of all, enjoyable.

It was distributed to all Road Safety Units for introduction in 2006 to all mainstream schools, colleges and special schools in Scotland. This provided schools with the opportunity of partnership working with Local Authority and Police Road Safety Officers in supporting the delivery of the resource.

Road Safety Education is vitally important in shaping opinions and attitudes to: speeding; drink-driving; drug-driving; and in-car safety. Crash Magnets targets young people before they pass the driving test, to try and ensure their well-being on the road by encouraging them to make the right decisions for themselves, and others, in the same way that they would on any other health issue.

The resource comprises a DVD with five programmes covering subjects such as: driver distraction, speed, 'cruise culture' and drink and drug driving. It delves into the role of the accident and emergency services and the harrowing aftermath of a serious crash. Young people from across Scotland are Vox Pop subjects in each programme, expressing opinions and talking about their experiences. This aims to encourage students to feel confident about expressing themselves in class about their own opinions and experiences.

Additional teaching materials stretching to 10 lessons can be selected from the 'Crash Magnets' tool box. These include situation cards and case studies to stimulate discussion and inform debate. Other activities, less auditory in style, employing active and creative learning involving role-play and design. Group work, establishing penalties for driving offences and examining life in a Young Offenders Institution take forward the citizenship issues of how we influence change in society.
For more information contact:
Kate Wheaton
T: 0131 472 9204
External links:
Help Forum posts