Partnership working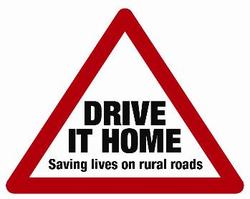 Title: Drive it Home (young drivers' campaign)
Organisation: National Federation of Young Farmers' Clubs (NFYFC)
Date uploaded: 24th April 2013
Date published/launched: November 2012

The majority of NFYFC's 24,000 members live and work in rural communities putting them in a high risk category for incidents on rural roads. The lack of public transport in many of these areas mean many NFYFC members have little option but to start driving young.

Many YFCs will have lost members in tragic road accidents and statistics show that rural young drivers are 37% more likely to be injured in a road accident than those who live in urban areas.

The Drive it Home campaign aims to:
• Educate YFC members on how to stay safe on rural roads and change attitudes to help them become better drivers.
• Create Drive it Home Champions to promote safer driving in their local communities and peer groups.
• Offer opportunities for YFC members to improve their driving skills.
• Ensure that all 644 Young Farmers Clubs deliver some form of road safety awareness training in 2013.
• Carry out further research to better understand the common causes of crashes involving rural young drivers and investigate differing regional trends.
For more information contact:
Emily Meikle
T: 02476 857 212
External links:
Help Forum posts