Young drivers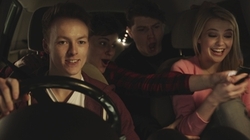 Title: 'Friends' & 'Missing' (distraction campaign)
Organisation: Department for Infrastructure (NI)
Date uploaded: 30th March 2016
Date published/launched: March 2016

These two films were launched in Northern Ireland in a bid to address the problem of driver distraction.

The films are targeted at young drivers to tackle what the DoE describes as 'the main cause of fatalities' on Northern Ireland's roads.

The DoE says that over the last five years, 116 people have lost their lives on Northern Ireland's roads due to driver carelessness. This equates to nearly 40% of the total number of road deaths (298) in the period 2010 to 2014.

The first film, 'Friends', is a TV ad which targets young drivers carrying young passengers. It uses sports scenes to illustrate how someone can miss a goal or a putt when distracted and then highlights the fatal consequences of a driver being distracted.

The second advert, 'Missing', is for use on social media and highlights what can happen in two seconds when a driver looks at an incoming text message on their mobile phone.
For more information contact:

External links:
Help Forum posts