Teenagers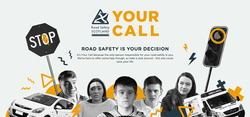 Title: Your Call (interactive website)
Organisation: Road Safety Scotland
Date uploaded: 9th June 2015
Date published/launched: May 2015

This new interactive website encourages secondary school pupils in Scotland to take road safety into their own hands.

The 'Your Call' website, aimed at S1-S3 pupils, offers a range of themed interactive activities relating to risk-taking, decision making, personal safety, pre-driver attitudes and peer pressure in the road environment.

It also features two films, based on a pedestrian theme for the younger age group and a passenger theme for the older age group, and shows the effect a road collision can have on young lives.

Your Call also provides teachers with flexible lesson plans designed to support the experiences and outcomes of health and wellbeing.

The website is based on the premise that even before young people get behind the wheel of a car, it is absolutely right that within the Curriculum for Excellence, key issues such as decision making and peer pressure are considered.

Road Safety Scotland also believes that positive attitudes developed in childhood, through road safety education in school, form the foundation for responsible road use in adult life.

The Your Call website has a strong focus on active learning with discussion, debate and opportunities for young people to self-reflect about their behaviour in the road environment, whether travelling on foot, by bike or in cars with friends.
For more information contact:

External links:
Help Forum posts