Pedestrians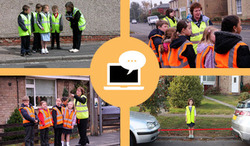 Title: Global Road Safety Week 2015: online forums
Organisation: Road Safety GB
Date uploaded: 19th May 2015
Date published/launched: May 2015

Road Safety GB hosted a series of four live online forums as part of a programme of activity in support of Global Road Safety Week 2015 (4-10 May).

The forums generated a total of 34 questions on topics including child car seats, the JRSO scheme and the safety of children as cyclists and pedestrians.

Road Safety GB assembled a panel of experts for each forum which were free of charge and open to everyone including parents, teachers and road safety professionals, both in the UK and other parts of the world.

The in-car safety forum was by far the busiest, with 19 questions about child car seats, mainly from parents and grandparents. The forum suggests there is some confusion about the merits of forward and rear facing seats, and the new i-Size regulations. The cycling forum produced seven questions while the JRSO and pedestrian forums each produced six questions.

The questions and answers from all the forums are available to view online on the link below.
For more information contact:
Nick Rawlings, Road Safety GB
T: 01379 650112
External links:
Help Forum posts