Motorcyclists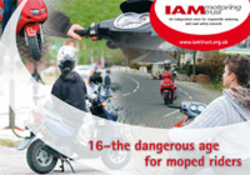 Title: 16 - the dangerous age for moped riders
Organisation: IAM RoadSmart
Date uploaded: 15th July 2010
Date published/launched: January 2009
This report was commissioned by the IAM Motoring Trust to investigate road accident casualties among 16-year-old moped riders in Great Britain.

The study analyses the details of 1,888 16-year-old moped riders who were killed or seriously injured on the roads between 2000 and 2006.

The research shows that 16 is the most dangerous age to ride a moped, and it is boys who are mainly at risk. The IAM asked road safety researcher Jean Hopkin to look at the official statistics, and her analysis shows clearly where, when and why 16-year-old boys are at such high risk on a moped.

The study points to crucial questions that everyone involved in the safety of young people will want answered:
• Are 16-year-olds being allowed to ride mopeds with too little practical knowledge of safe roadcraft, defensive riding skills, and a sound understanding of where and when they are most at risk?
• Is death or serious injury to 16-year-old moped riders out of all proportion to the mobility benefits?
• Is unlawful and reckless moped riding out of control in some areas?

In the light of this report the IAM believes that the way 16-year-olds are trained and licensed to ride mopeds should be reviewed. At the end of the report, we set out the IAM's 10-point Action Plan to make moped riding safer for vulnerable 16-year-olds.
For more information contact:
IAM Motoring Trust
External links:
Help Forum posts